Greek Gastronomy in Halkidiki
At Potidea Palace Hotel, guests will discover Greek Gastronomy that bring authenticity, simplicity and freshness to your plates. Rich breakfast, lunch and dinner buffets are served at the main restaurant while the Acropolis a la carte restaurant offers an upscale dining experience with dishes including fresh fish and seafood, for lunch and dinner.​
Our 4 bars, located throughout the resort, offer fresh juices, exquisite cocktails, delicious coffees & teas, as well as snacks and pastries throughout the day.​
In all our restaurants at Potidea Palace, one of the best All Inclusive Hotels in Halkidiki, we take special care of our guests with distinct dietary needs, such as gluten free, diabetes or various allergies. And for our younger guests, we prepare daily special dishes, making life easier & healthier for the whole family.​
Our Executive Chef Kyriakopoulos Dimitris and his team use the best fresh local ingredients and create deliciously dishes at high cuisine level, delivering a truly culinary experience.
Here, in our All Inclusive Restaurants ,with genuine Greek hospitality, you will be offered dishes of the Greek Gastronomy from alpha to omega. From light appetizers and fresh salads, through delicious main fish course and sea food, to wonderful desert. While sipping wine with the subtle tints of taste of the Greek grape on a sun-lit terrace, you will be enjoying the unforgettable view of the endless sea.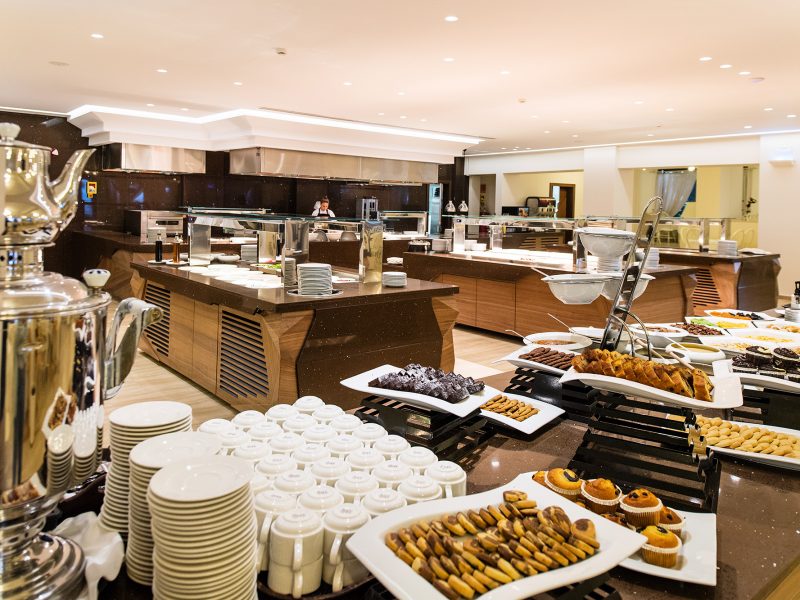 Feel the tastes of the Mediterranean cuisine and discover unforgettable experience of Greek Gastronomy, while enjoying a magnificent view to the sea. The main restaurant offers traditional local cuisine as well as international dishes performed at their best.
international & Greek cuisine -
Acropolis à la carte restaurant, a refined and elegant venue serving a delicious combination of international & Greek cuisine with emphasis on sea food & fresh fish.
The halls of Acropolis decorated in the exquisite Greek style, the beautiful kitchenware and stylish interior create a disposition for pleasant pastime and make the wonderful cuisine even more enjoyable. Now you can have dinner on the luxurious terrace of the restaurant offering a fantastic panoramic view. The endless sea, the richness of the colors of the Greek sunset, the white columns of the Parthenon – this magical picture will remain in your memory forever, while the delicate taste of Greek Gastronomy will emphasize the uniqueness of the moment.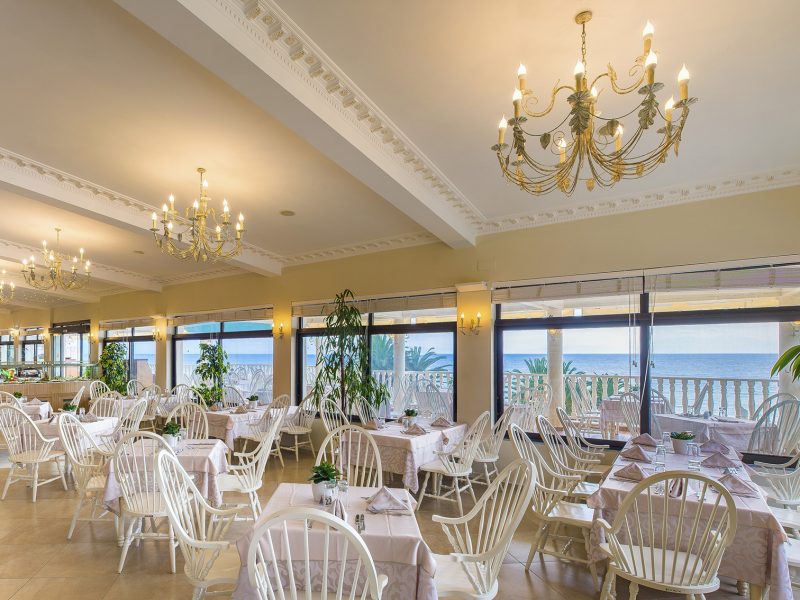 "Enjoy our extensive list of cocktails and beverages, in our All Inclusive Bars, prepaid throughout the day by our mixologists"!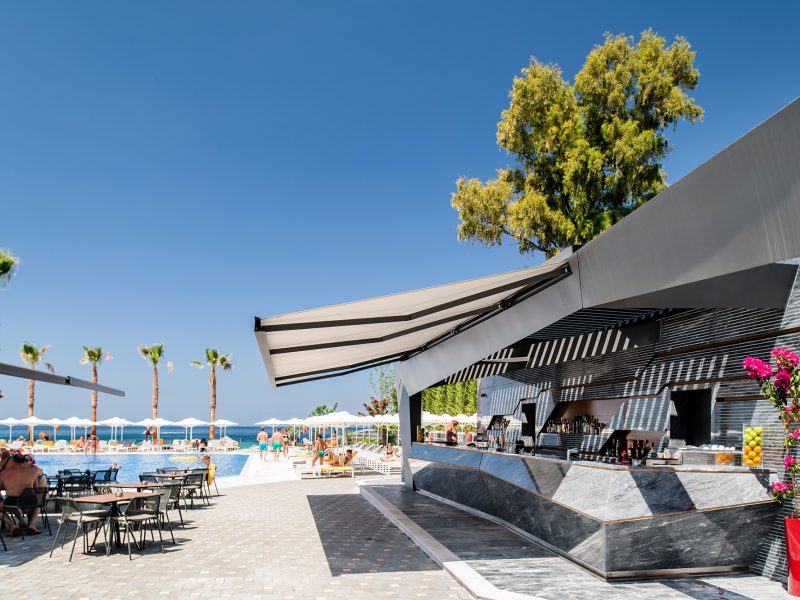 Overlooking the main pool area, guests can enjoy a wide variety of alcoholic and non-alcoholic beverages, ice creams, fruit juices, smoothies while relaxing in the comfortable lounge areas.
a few steps from sandy beach -
Beach Bar / Animation Bar
After a full day on the beach, come and enjoy some great cocktails, beers and refreshing drinks at our dual purpose Beach/Animation bar, located a few steps from our sandy hotel beach. In the evening it is transformed into a vibrant bar to enjoy a sundowner or your drinks during our live evening entertainment.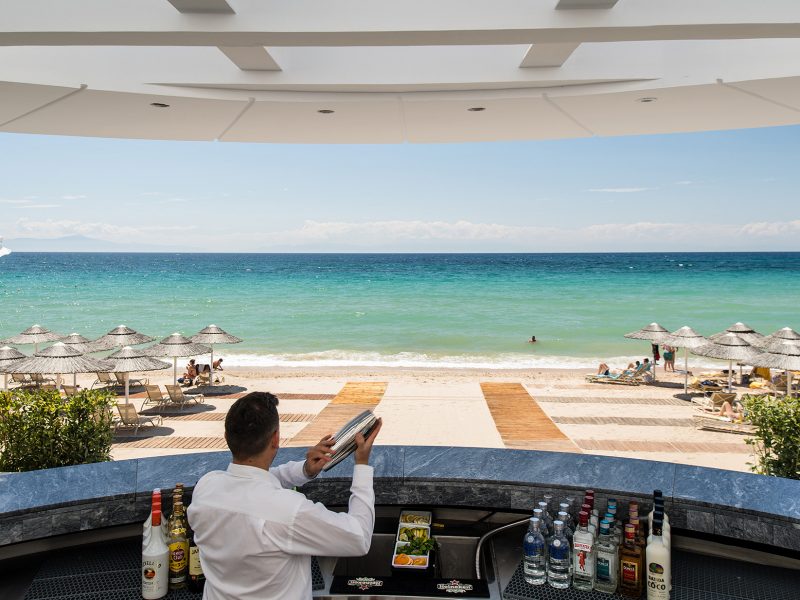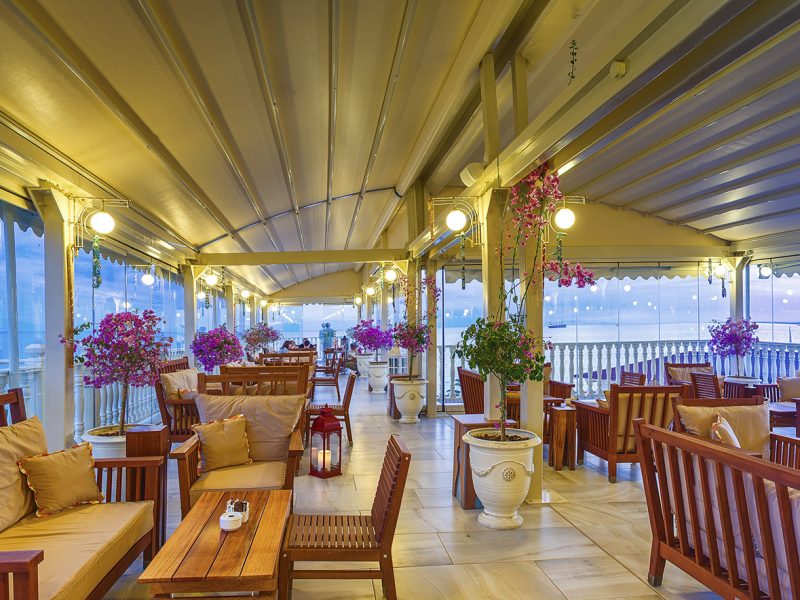 A truly unique location to end your day, Anatolia Bar offer lovely panoramic views to the Aegean Sea, stylish modern decor and a relaxing atmosphere.
Located in the hotel's building by the reception area, this neoclassical interior designed bar, offers a wide selection of drinks and great relaxing atmosphere.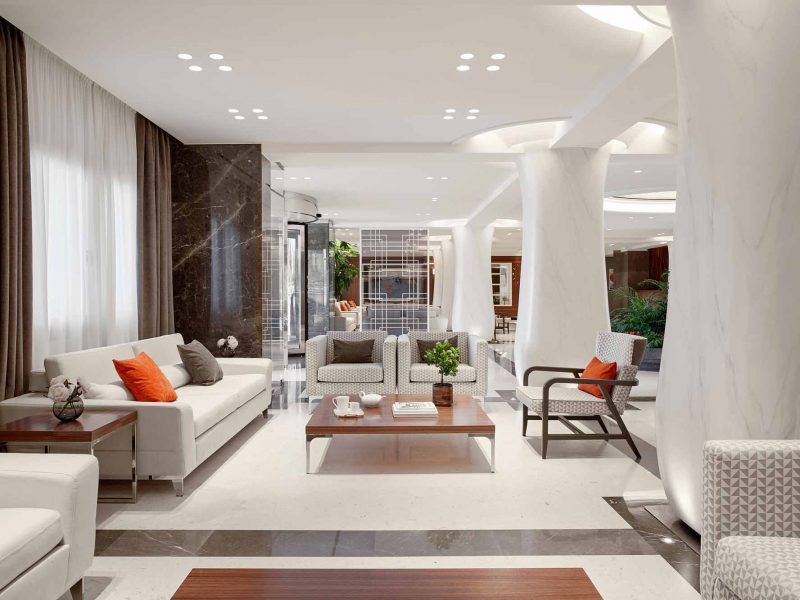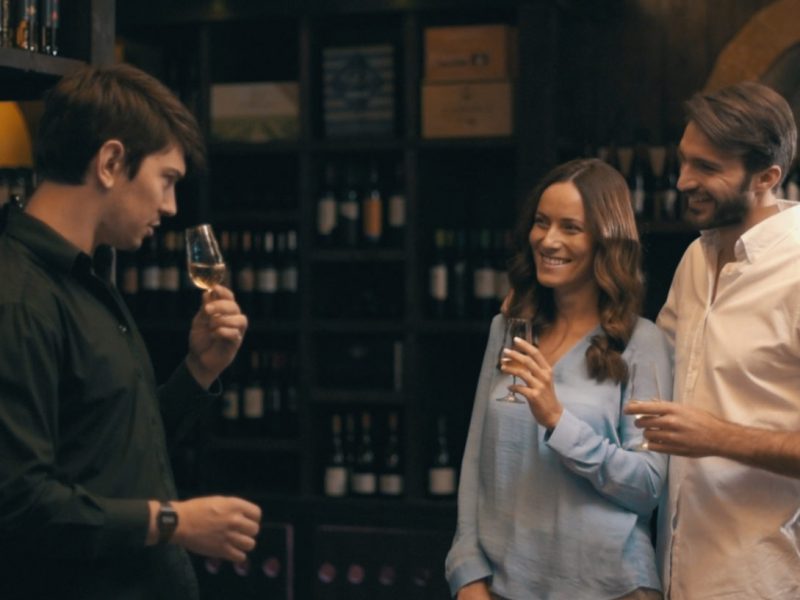 Wine lovers will be pleased to find out that Potidea Palace Hotel features "Cava Idea", a truly unique wine cellar, located in the resort grounds.
Featuring hundreds of Greek wine labels "Cava Idea" enables every guest to take a virtual tour around the Greek vineyards from the regions of Macedonia, Thrace, Central Greece, Peloponnese, Crete and the Greek Islands. One can also find special sections offering among others variety of Greek sweet wines, excellent Greek sparkling wines as well as locally produced Greek Spirits and Distillates.