It is a truism in the Hospitality and Tourism industry that some travel experiences are unmissable and at the same time irreplaceable. And these are the experiences that any sophisticated traveler wants to tick off his bucket list. We did the legwork for you and present the ultimate Potidea Palace Bucket List part 2 to you:
Hold your nuptials inside a replica of the Parthenon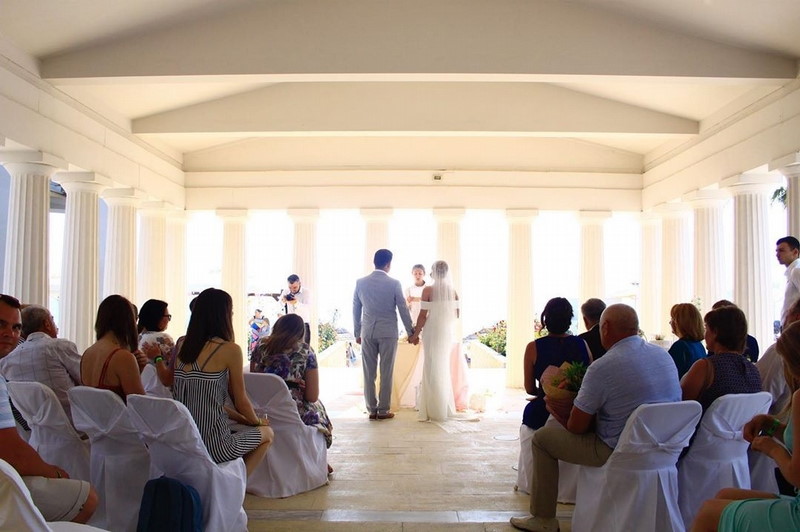 We love being touted as your personal paradise. This is the reason why we offer you this singularity. Choose the theme of your blissful wed by the sea, trust our magic makers and organize your dreamy wedding in the replica of the Parthenon at the Potidea Palace.
2. Eat. Eat well.
Our gastronomy lovers-guests have the time of their life at the Potidea Palace. Your ultra-all-inclusive culinary vacations include nutrient-dense meals three times a day. And we offer you nothing but the best: from the finest seafood, sourced from Halkidiki's azure sea, to non-ordinary sushi indulgences and delectable desserts that are bliss in every bite. Culinary vacations you will hardly ever forget.
3. Bask in the Greek sun
Very recently, the Italian destination of Elba island rolled out a new marketing campaign named "Elba No Rain", promising to reimburse hotel stays should it rains "for more than two hours on every day of a guest's visit."1 We, indeed, loved this "good-weather initiative", as the New York Times characterized it. Despite that, we cannot give you such a meteorological conditions promise. We can tell you one thing: Sunny, bright days reign here.
As a matter of fact, balmy dusks are paradisiac but sun-drenched mornings are our favorite. With an average annual temperature more than 20 °C, this is THE place to soak up the so coveted rays of the sun. Lay on a poolside sun lounger, sit on the loan or right next to the lapping tide. The perfect tanning is a sure thing here!
https://www.independent.co.uk/travel/news-and-advice/elba-italy-island-rain-refund-hotel-beach-holiday-a8921591.html
4. Spend a day- or two- like an Olympian God.
Maybe the first thing that comes to mind when you overlook the smashing vistas of Mount Olympus, is the word "divine". Trying to materialize this notion as much as possible, we came up with an Amvrosia treatment inspired by amvrosia that was deemed the food of the twelve gods of Olympus. If you have a spare moment between your sunbathing sessions, be sure that you try this nourishing and moisturizing treatment based on honey and the highly nutritious elixir of royal jelly.