IG: @anastasija.kovach
Hospitality is a field with diverse offerings, pleasures, and facets. Nevertheless, if we were asked to associate hospitality with solely some of these facets, gastronomy would be at the top of the list. Embedded in the genes of hospitality, food assumes a paramount role in everything we offer you every day in Potidea Palace. In this light, our Executive Chef, Kyriakopoulos Dimitris, and his team draw attention to every predilection, need or dietary philosophy that every single Potidea Palace guest has. In this article, we present the vegetarian dishes that our chef and team have prepared for our vegetarian guests. Plant-based foods, culinary imagination, gastronomy for the most refined tastes, and nutrient-dense, fresh raw materials achieve rich–flavored dishes that uniquely enrich your palate, in a vegetarian way. Below, we provide a list of the vegetarian meals offered at our hotel.
Stalwart foodies tell us that when at the Potidea Palace help themselves with a first and second dinner too. These include:
THE SOUPS
(Main Restaurant)
Onion Soup
Tomato Soup
Vegetable Soup
Pea & Carrot Soup
Potato & Leek Soup
THE PASTA SAUCES
(Main Restaurant)
Napoletana
Primavera
Sicilian
Aglio E Olio
THE KIDS' MENU
(Main Restaurant)
Steamed Potatoes- Steamed Pea- Carrot- Zucchini
Veggie Burger
Falafel
Greek Zucchini Fritters
Greek Eggplant Flutes
Pizza Margherita
ΤΗΕ VEGETARIAN DISHES
(Acropolis A la Carte)
Mushroom Risotto
Crusted Kefalograviera
Mushroom Stuffed with Vegetables and Smoked Cheese
Broiled Veggies
Stir–Fried Zucchini
Mashed Potatoes
THE APPETIZERS
(Main Restaurant)
Vegetable Moussaka
Mpriam (Greek Roasted Vegetable Medley)
Greek Green Bean and Olive Oil Stew
Pea Stew with Potato and Carrot
Greek Okra Stew
Gemista (Greek Stuffed Vegetables)
Spanakorizo (Greek Spinach Rice)
Chickpeas
Cabbage with Dried Fruits
Greek Zucchini Pie- Greek Spinach Pie- Greek Cheese Pie
Oven Peas Stew
THE SIDE DISHES
(Main Restaurant)
Mashed Potatoes- Roast Potatoes
Mashed Carrots
Orzo
Steamed Rice with Mushrooms
Couscous
THE DESERTS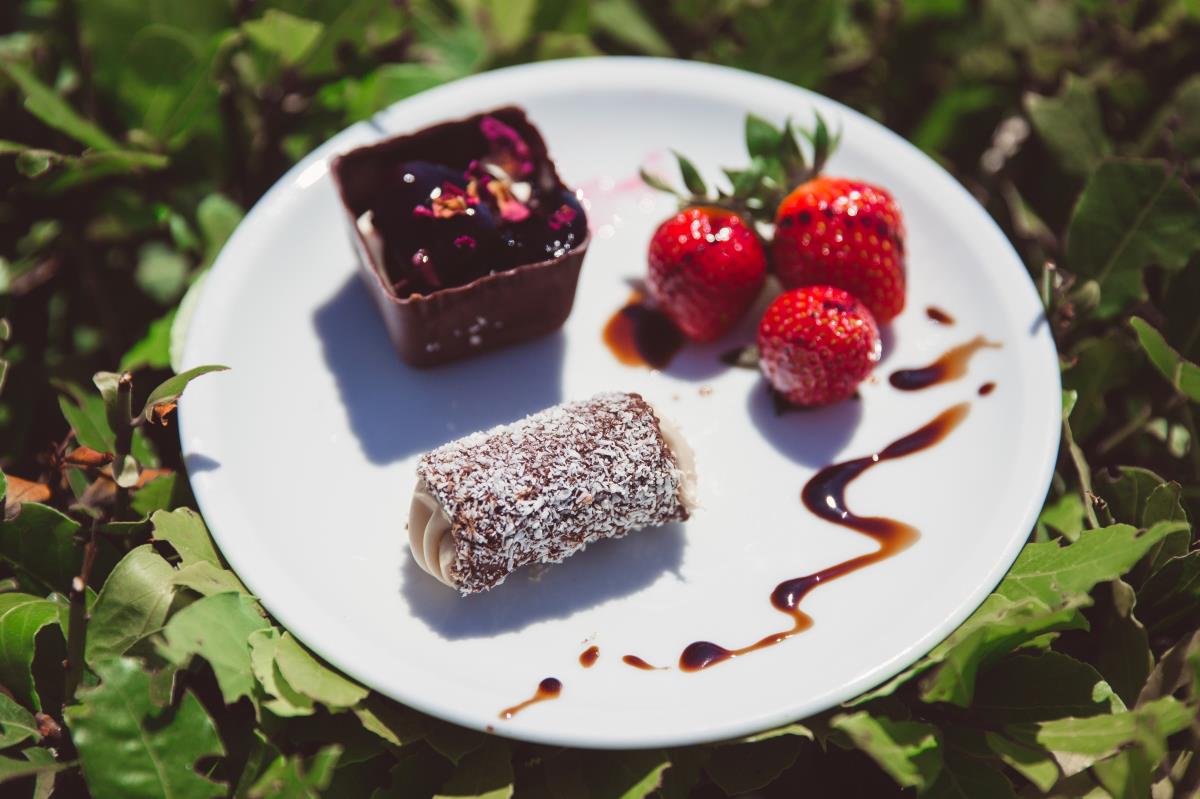 Discover mouthwatering surprises every day, at our Main Restaurant. Pursuant to your vegetarian predilections, we offer you a swarm of sweet delicacies to savor the good life in the Potidea Palace hotel.
(Main Restaurant)
Baklava
French Paste
Tart with Fresh Fruits
Greek Custard Pie ("Galaktoboureko")
Patisserie Cream Filled cannoli
(Acropolis A la Carte)
Baklava
French Paste
Tart with Fresh Fruits
Greek Custard Pie ("Galaktoboureko")
Patisserie Cream Filled Cannoli
Your sophisticated vegetarian journey into gastronomy starts here and we cannot wait to welcome you to it!